Health and safety at work
Health and Safety enforcement is a responsibility of both the council and Health and Safety Executive (HSE), depending on the main work activity.
We enforce health and safety in:
offices
shops and market stalls
warehouses
hotels, restaurants, catering
pubs and clubs
sport and leisure facilities
nurseries and playgroups
cinemas, theatres, museums, art galleries
consumer services
beauty salons, spas, hairdressers, tattooing, body piercing establishments
residential care homes
tyre and exhaust fitters
churches
The HSE enforce health and safety in:
factories, manufacturers, engineering
hospitals and NHS
laboratories
transport and railways
educational establishments
local authority premises
building sites, most construction work, civil engineering
works in the street
mines and quarries
farms
fairgrounds
chemical plant
nuclear installations
Many premises will have a mixture of activities carried out within them, in which case the decision as to who enforces depends on the main activity. If you're unsure who would deal with your inquiry, you can contact us to discuss the issue.
We have a statutory duty to enforce the Health and Safety at Work Act 1974 (HSWA) and associated legislation. The Health and Food Safety Team have a range of responsibilities in relation to premises for which we are the enforcing authority, including:
investigating complaints and queries regarding workplaces
investigating serious workplace accidents and fatalities reported to the local authority under the Reporting of Injuries, Diseases and Dangerous Occurrences Regulations (RIDDOR)
carrying out risk-based health and safety inspections
advising and guiding businesses and duty holders on health and safety issues
carrying out campaigns and initiatives to raise awareness of health and safety issues
reviewing asbestos notifications
reviewing statutory lift reports
the registration of cooling towers and evaporative condensers
Our team don't deal with:
All interventions are planned in accordance with the HSE's advice on targeting interventions.
What are our powers?
Environmental Health Officers (EHOs) appointed under section 19 of HSWA have the right of entry to your premises as well as the right to talk to employees and safety representatives, and exercise powers to help them fulfil their role.
If they have reasonable cause to apprehend serious obstruction, they may take a police officer. Officers may take measurements, photographs and require the production of, inspect and take copies of relevant documents.
When considering enforcement, we refer to HSE guides which aim to ensure our decisions are consistent, transparent and proportional:
What happens when an inspector calls?
If an Environmental Health Officer visits your premises, you should ask them to confirm their identity. They all carry identification so you can ask to see this.
The officer will explain the reason for their visit and may ask to go to a certain area of the premises to inspect something. You should cooperate and assist the officer during their visit.
If you have any questions you can ask the officer.
Contact
To contact our Health and Food Safety Team, email envhealth@brentwood.gov.uk or call 01277 312500.
To contact HSE, call them on 0300 003 1647 or write to:
Health and Safety Executive
Osprey House
Hedgerows Business Park
Colchester Road
Springfield
Chelmsford
Essex
CM2 5PF
Health and safety advice
The Health and Food Safety Team gives free advice and guidance to businesses and individuals on any health and safety subject. You can email them at envhealth@brentwood.gov.uk or call 01277 312500.
You can also get free, basic advice from Health and Safety Executive (HSE). This is a comprehensive source of information which is regularly updated. You can keep in touch with current campaigns and events, subscribe to free email news, updates, RSS feeds and podcasts.
The HSE also have various toolkits available at HSE guidance to help small and medium businesses in understanding and complying with UK health and safety law.
If you're not confident of your ability to manage all health and safety in-house, you may need some advice from a health and safety adviser. The Occupational Safety and Health Consultants Register (OSHCR) provides an up-to-date list of general health and safety advisers who have a qualification recognised by the professional bodies participating in the scheme. If you need general health and safety advice, you can search the register for a consultant by industry, topic, county or keyword(s).
Safer Workplace, Better Business (SWBB)
The SWBB pack has been designed and developed by Devon Health and Safety Group who have kindly let us to use this document to help local small or medium businesses comply with their legal duties. The pack is designed to help you focus on the risks that really matter in your workplace and has templates and checklists that you can use for your business. You can adapt the SWBB pack to address the risks at your business activities.
For more information, visit SWBB.
Training
There are professional institutes and bodies that provide and endorse health and safety training nationally. We recommend the following bodies and courses, though there are other similar course you could do:
Reporting an accident at work
Reporting of Injuries, Diseases and Dangerous Occurrences Regulations 2013 (RIDDOR), places a duty on employers, the self-employed, and those in control of workplaces to report certain types of serious work-related accidents and dangerous occurrences.
View the RIDDOR key definitions.
To report a RIDDOR accident, you can use the Health and Safety Executive's (HSE) online reporting tool.
The decision to investigate any accidents reported to us will be made in accordance with the HSE's Incident Selection Criteria Guidance.
Asbestos at work
Asbestos can be found in any building built or refurbished before the year 2000 and causes around 5000 deaths each year.
Asbestos containing material isn't a cause for concern if it's in good condition and in a place where it's unlikely to be disturbed. However, when materials that contain asbestos age, or are disturbed or damaged (for example, when drilled, sawn, scrubbed or sanded), fibres are released into the air. When these fibres are inhaled, they can cause serious lung diseases including cancer.
It's important that you don't damage asbestos or handle asbestos that's been damaged.
Find out more about HSE: asbestos at work.
What you should do
Regulation 4 of the Control of Asbestos Regulations 2012 sets out explicit duties for owners and occupiers responsible for maintenance and repairs, to manage asbestos in non-domestic premises. The requirements are to prevent workers involved in refurbishment, maintenance and other trades from being exposed to asbestos who may be disturbing such materials during the their work, without knowledge.
take reasonable steps to find out if there are materials containing asbestos in non-domestic premises, and if so, its amount, where it is and what condition it's in
presume materials contain asbestos unless there is strong evidence that they don't
make, and keep up-to-date, a record of the location and condition of the asbestos- containing materials or materials which are presumed to contain asbestos
assess the risk of anyone being exposed to fibres from the materials identified
prepare a plan that sets out in detail how the risks from these materials will be managed
take the necessary steps to put the plan into action
periodically review and monitor the plan and the arrangements to act on it so that the plan remains relevant and up-to-date
provide information on the location and condition of the materials to anyone who is liable to work on or disturb them
View the HSE: step by step guide to help duty holders through the process of understanding their duties as defined in Regulation 4 of the Control of Asbestos Regulations 2012.
Find out more about HSE: duty to manage asbestos.
Asbestos management plan
Where asbestos has been identified, the Control of Asbestos Regulations 2012 requires the completion of a written asbestos management plan before any work is carried out on a building. The plan brings together your asbestos register, plans of work and schedule for monitoring the materials' condition.
Asbestos survey
Before doing any work, you must either get expert help, through a survey, to test if asbestos is present or presume that materials contain asbestos and apply full asbestos safety precautions for the work.
The duty holder may decide to appoint a separate organisation or person to carry out an asbestos survey. It should be noted, however, that whilst you can delegate the task, you cannot delegate the legal responsibility to manage asbestos in non-domestic premises.
Before appointing a surveyor, we strongly recommended using accredited or certificated surveyors for asbestos surveys. Organisations can demonstrate that they are technically competent to undertake surveys through accreditation with the United Kingdom Accreditation Service (UKAS)
Asbestos surveyors must carry out their surveys in accordance with good practice guidance, such as the HSE's Asbestos: The survey guide – HSG264.
Asbestos at home
If you find asbestos at home, the hazardous waste scheme by Essex County Council can help remove bonded asbestos for free. This is a collection service only, they are not able to dismantle asbestos fixtures for you. You will need to make suitable arrangements for asbestos to be dismantled.
Before it can be taken away, you need to double wrap the waste in heavy duty polythene.
Essex County Council recycling centres do not accept asbestos.
Bouncy castles and other play inflatables
Recently, there have been some high-profile accidents where tragic and serious injury has happened when users have been thrown from or hit by inflatable equipment.
There are precautions you should take to avoid serious incidents, whether you supply or buy bouncy castles and inflatables, are hiring one for an event, or operate them.
If you want to supply, hire or use bouncy castles or other play inflatables at a commercial event, you will need to do a risk assessment and put in place suitable precautions to prevent injury.
If you don't provide a risk assessment to the detail required, we may refuse your use of inflatables before the event or during, depending upon the circumstances.
If you're thinking of organising an event, view our requirements for the provision of bouncy castles and other inflatable devices (PDF).
For more guidance on the safe use of bouncy castles and inflatable equipment, view our recommended organisations:
Cooling towers
Building owners are required to notify us of any changes to or new cooling towers or evaporative condensers in the Borough by completing the
Gas and electrical safety
Gas safety
Warning
The National Gas Emergency number is 0800 111 999. If you smell gas, think you have a gas leak, or are worried that carbon monoxide is escaping from a gas appliance, call the free National Gas Emergency Services number immediately.
Gas safety is enforced by the Health and Safety Executive (HSE). If gas appliances, such as ovens, grills, cookers or boilers aren't properly installed and maintained, there's a danger of fire, explosion, gas leaks and carbon monoxide (CO) poisoning.
Carbon monoxide exposure can also happen with solid fuel appliances such as tandoori ovens, charcoal grills, wood-fired pizza ovens and charcoal burners used in shisha bars.
Carbon monoxide is a highly poisonous gas with no taste, smell or colour and exposure can lead to serious, permanent ill-health effects or death.
Liquefied petroleum gas (LPG) is used as a fuel in a range of applications including heating and cooking appliances. LPG is flammable and heavier than air so that it will settle and may accumulate in low spots such drains and basements where it could present a fire, explosion or suffocation hazard.
Employers need to comply with the relevant regulations to help ensure worker and public safety by:
using a competent engineer to install, maintain or repair appliances. This must be carried out by someone on the Gas Safe Register who is qualified to work on that particular gas appliance.
ensuring new appliances for commercial catering are CE marked
ensuring all catering and hospitality staff that use gas appliances are trained in how to use them, how to carry out regular checks for obvious faults, and what to do if a fault is found
ensuring your gas pipework, appliances and flues are regularly maintained
checking that all rooms with gas appliances have adequate ventilation, don't block air inlets to prevent draughts, and don't obstruct flues and chimneys
not using any appliance you know or suspect is unsafe
It is illegal for an unregistered person to carry out work on any domestic gas appliance.
You can check if an engineer is registered by visiting Gas Safe Register or calling 0800 408 5500. All those registered must carry a Gas Safe ID card, which shows the type of work they're qualified to do and whether their qualifications are up to date.
You can get more advice on gas safety by visiting HSE: Gas safety.
For solid fuel appliances you should:
seek competent advice on all technical matters relating to installation, ventilation, extraction and maintenance. Organisations such as HETAS, CEDA, FEA and BESA can help.
only use solid fuel appliances designed for indoor use
make sure that extraction systems for commercial solid fuel appliances are thoroughly examined and tested at least once every 14 months
fit a functioning, audible carbon monoxide alarm suitable for use in a commercial kitchen and have procedures in place to deal with evacuation if it goes off
For liquefied petroleum gas (LPG) you should make sure that:
all staff are trained to use LPG equipment and how to carry out daily checks of cylinders, flues, vents, pipework and appliances
appliances are installed and inspected by a competent person
only competent and suitably trained people change LPG cylinders or hoses
a certificate from a trained and registered Gas Safe engineer is provided for each appliance, hoses and connectors, rigid pipe work and quick release valves, the gas cylinder installation, changeover valve, pigtails, and the system pressure
all commercial catering with LPG equipment has a flame failure device or flame supervision device or thermocouple
all LPG cylinders, regulators and change-over devices are located in the open air or housed in a separate, well ventilated, fire-resistant compartment
flexible hoses are kept as short as possible and properly secured by integral threads, crimping, or hose clips. Worm driven, such as jubilee clips, aren't acceptable.
spare cylinders are stored upright in a secure, well-ventilated area away from any sources of ignition
For more guidance on the safe use of LPG, visit Liquid Gas UK.
Electrical safety
Electricity can kill or severely injure people and cause damage to property. You can take simple precautions when working with or near electricity and electrical equipment to significantly reduce the risk of injury to you, your workers and others around you.
You must:
carry out a risk assessment of any electrical hazards, considering the type of electrical equipment used, the way in it's used and the environment it's used in
make sure the electrical installation and equipment is suitable for its intended use and is only used for its intended purpose
make sure cables, plugs, sockets and fittings are robust enough and adequately protected for the working environment
make sure that workers know how to use the electrical equipment safely
make sure enough sockets are available and check socket outlets aren't overloaded by using unfused adaptors as this can cause fires
make sure there are no trailing cables that can cause people to trip or fall
switch off and unplug appliances before cleaning or adjusting them
stop using equipment immediately if it appears to be faulty and have it checked by a competent person
consider using a residual current device (RCD) between the electrical supply and the equipment, especially when working outdoors, or within a wet or confined place.
make sure that electrical equipment, including portable equipment, is checked and, where necessary, repaired or replaced. Guidance on portable appliance testing (PAT), is available from HSE: portable electrical equipment.
make sure the fixed wiring installations, such as sockets, consumer units or wired in equipment (cookers or hairdryers), are inspected and maintained regularly by a competent electrician, to reduce the chance of deterioration leading to danger
For more information about electrical safety, visit HSE: electrical safety at work or for events, visit HSE: electrical safety at events.
Legionella
Legionella can grow in stagnant water where it is not being regularly used and flushed through. In warmer conditions, where water has been left in pipes, tanks and other storage systems the bacteria grows at a faster rate.
It is a legal requirement under the Health and Safety at Work Act 1974 (HSWA) for employers, business owners and landlords to manage the risks of exposure to Legionella. It is very important that you manage and keep all water systems safe whilst closed or during partial shutdowns for the future health and safety of guests, visitors and staff. The procedures you follow now will have an impact on how soon you can open your facilities without causing harm to health.
If you have not done so already, you should be thinking about this and taking action now. Ideally water systems should have been flushed and maintained throughout, however, some buildings will not have been decommissioned (or partially decommissioned) safely.
Initially:
Determine/clarify who is responsible and who is the "competent person"
Where necessary, identify a competent contractor to assist. It is recommended that you assess a potential contractor to ensure their competence for your water system: The Legionella Control Association can assist in finding competent contractors:
Ensure the risk assessment is reviewed and updated to include where water system usage has been reduced or shut down.
Document how remaining staff, visitors, etc. will be protected when on site during the lock down and when the business reopens.
Identify all additional elements of the water system and how these will be restarted safely, e.g. humidifiers, jet washers, indoor fountains, etc.
Risk assessment
Under the Management of Health and Safety at Work Regulations 1999, all employers running a business must control the risks in their workplace. You need to think about what might cause harm to people in your workplace and decide whether you're doing enough to prevent that. This process is known as risk assessment, and is something you're required by law to carry out. If you have fewer than five employees you don't have to write anything down, but you will still have to carry out a risk assessment. You're probably already taking steps to protect your employees, but your risk assessment will help you decide whether you should be doing more.
What do I need to do?
Before you carry out your risk assessment, you must make sure that the person who does this is competent to do so. You should try and find someone within your own premises, as they will know the working environment and potential hazards better than anyone else. A competent person is someone with the necessary skills, knowledge, training, experience and practical ability.
The first step of the risk assessment process is to identify what could cause injury or illness in your business. You should consider the following hazards when conducting your risk assessment:
display screen equipment
electrical safety
falls from height
fire safety
gas safety
hazardous substances
kitchen safety
manual handling
needle stick (injury from hypodermic needles)
noise at work
slips and trips
stress
violence
work equipment
This list is not exhaustive, and there are likely to be other issues that require your attention.
Once you have identified the hazards, decide how likely it is that someone could be harmed and how serious it could be (the risk).
You must then take action to eliminate the hazard, or if this isn't possible, control the risk.
The Health and Safety Executive (HSE) have some example risk assessments and policy templates you can view. Choose the example closest to your own business and use it as a guide to complete your risk assessment, adapting it to meet the needs of your own business.
For more advice on how to do a risk assessment, visit HSE: managing risks. You can also view the HSE guidance to help small and medium businesses understand and comply with UK health and safety law.
Safer workplace, better business
Are you a small medium sized business? Do you struggle with understanding and complying with health and safety law? Help is at hand with the Safer Workplace, Better Business pack!
The Safer Workplace, Better Business (SWBB) pack has been designed and developed by Devon Health and Safety Group who have kindly permitted Brentwood Borough Council to use this document to help local business e.g. cafes, restaurants, takeaways, pubs, bed & breakfast, small hotels, small residential care homes, retailers, offices and other such small/medium enterprises and to comply with their legal duties
Health and Safety legislation requires all employers, self employed person and controllers of premises to assess all risks posed by their work activities and to introduce suitable control measures to either eliminate or manage the risk. The SWBB pack is designed to help you focus on the risks that really matter in your workplace.
SWBB is based on very similar principles as Safer Food Better Business whereby the document is spilt up into procedures and practices, protection, good practice, records and extra care. The pack has templates and tick box checklists that you can use for your business.
You can adapt the SWBB pack specifically to address the risks posed by your business activities. By using the pack you will be able to demonstrate that risk assessments for your business have been undertaken.
If you have any queries, please contact Environmental Health on 01277 312500.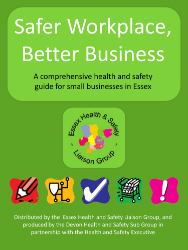 Works to trees
Don't take risks during tree-work.
The Council would like to remind landowners to ensure that only trained and competent people are used to deal with fallen trees.
The task of removing damaged or fallen trees becomes more hazardous when working in severe weather so extra care must be taken. Any person using a chainsaw should be properly trained and, if they are not, they should seek help from an appropriately trained and competent professional.
Brentwood Borough Council asks those undertaking tree work to take the following advice:
Anyone using a chainsaw should have received adequate training and be competent in using a chain saw for the type of work they are carrying out
Suitable protective equipment should be worn, no matter how small the job, including: safety helmet; hearing protection; eye protection; upper body protection; gloves; leg protection; and chainsaw boots
Avoid working alone with a chainsaw
Before starting work, operators should check work sites thoroughly to identify potential hazards
Operators need to be both physically and mentally fit before using a chainsaw
Chainsaws should not be used by anyone under the age of 16
Chainsaws expose operators to high levels of noise and hand-arm vibration, which can be controlled by good management and practice
Proper maintenance is essential for the safe use of chainsaws.
More information on tree works is available on the HSE Website.