Corporate Leadership Team (CLT)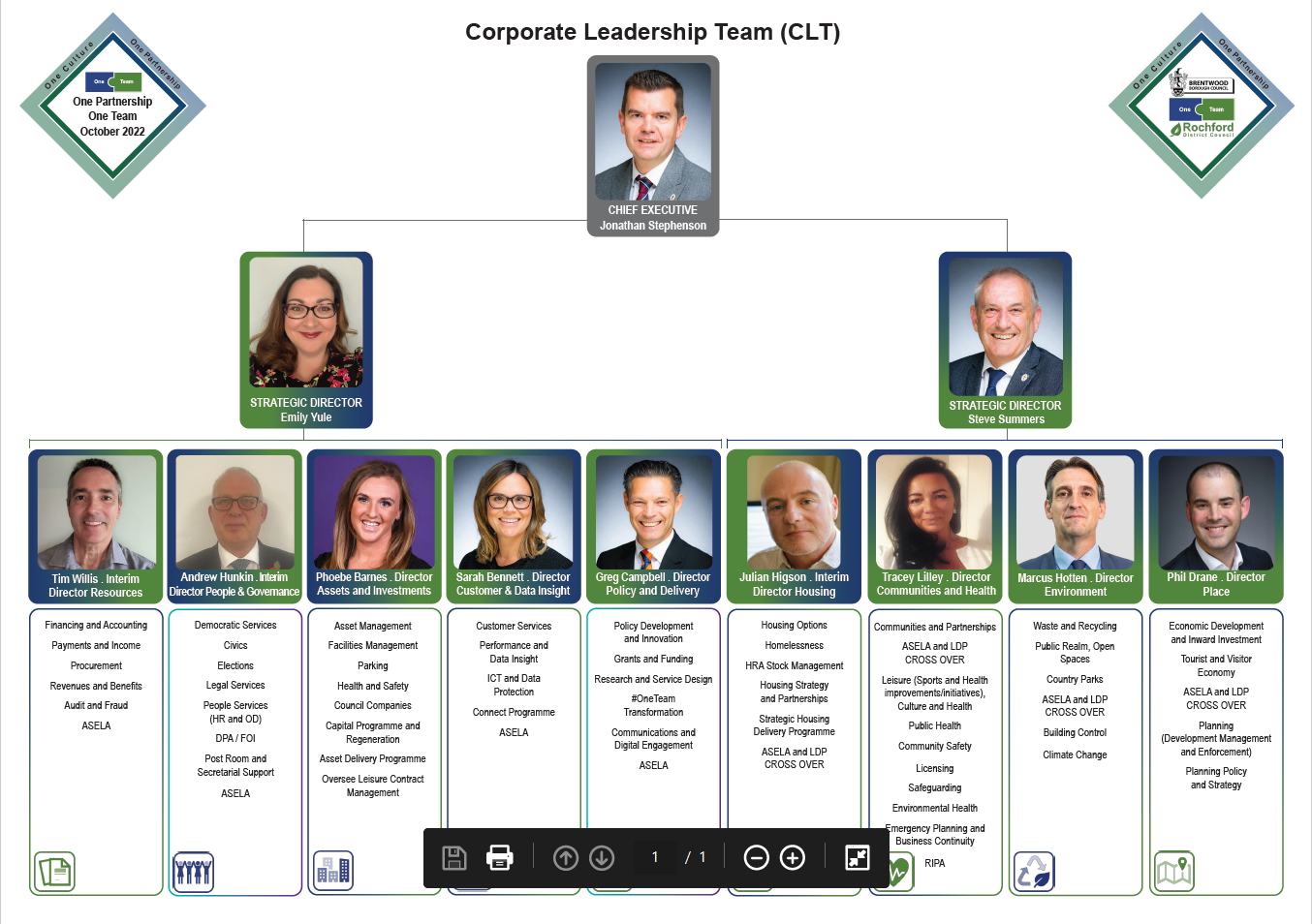 View the Corporate Leadership Team (CLT) structure chart (PDF).
The Corporate Leadership Team is responsible for managing the activities of the Council staff and for advising Councillors on the potential implications of political decisions.
Brentwood Borough Council and Rochford District Council's Corporate Leadership Team consists of one Chief Executive, 2 Strategic Directors and 9 Directors:
Chief Executive
Jonathan Stephenson
Chief Executive, Rochford District Council and Brentwood Borough Council (HPS, RO, ERO)
Strategic Directors
Emily Yule (Deputy CEO)
Steve Summers
Directors
Tim Willis – Interim Director Resources (S151, SIRO)
Andrew Hunkin – Interim Director People & Governance (MO, DPO)
Phoebe Barnes – Director Assets & Investments
Sarah Bennett – Director Customer & Data Insight
Greg Campbell – Director Policy & Delivery
Julian Higson – Interim Director Housing
Tracey Lilley – Director Communities & Health (RIPA)
Marcus Hotten – Director Environment
Philip Drane – Director Place
Statutory Roles: Head of Paid Service (HPS), Returning Officer (RO) & Electoral Registration Officer (ERO), Regulation of Investigatory Powers Officer (RIPA), Monitoring Officer (MO), Senior Information Risk Owner (SIRO), Data Protection Officer (DPO) and Section 151 Officer (S151).