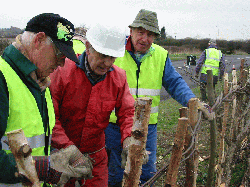 The Countryside Management Service is supported by a number of highly valued volunteers. The efforts of individuals and the combined teamwork of the weekly Brentwood Countryside Management Volunteers (BCMVs) help us to deliver our aims across the Borough.
Throughout the year the BCMV group carry out a wide variety of tasks including pond management, tree and hedge planting, woodland management across the Council's countryside estate as well as helping to maintain Brentwood's 243km of public rights of way.
Volunteering is a great way of getting out into the countryside and discovering places that you may not have visited before. It's also a chance to meet new people, learn new skills and traditional countryside crafts. If you appreciate and enjoy the countryside of Brentwood and want to help conserve its diverse landscape and variety of flora and fauna, come along and lend a hand.
Volunteer projects take place every Wednesday from 10am until approximately 3pm. If transport is a problem, there are limited spaces available in our van for transfer to and from site. Each Wednesday the van will be at King George's car park, off Hartswood Road, leaving for the work-site at 10am. If you wish to go direct to site please see the programme below for location details.
No experience is necessary.
We bring:
Tools
Safety equipment
A trained leader
and of course, plenty of tea and biscuits!
You bring:
A packed lunch
Wear old clothes and sturdy footwear (no trainers)
Upcoming projects:
View the March 2023 Countryside Management volunteers project schedule.
For more information, contact Tracey Lynch on 01277 312500 (option 2) or tracey.lynch@brentwood.gov.uk.