King George's Playing Fields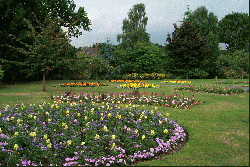 Ingrave Road, Brentwood, Essex CM13 2FD
King George's Playing Fields is a large, centrally located park offering several facilities including, formal gardens, children's play area, a unique sensory garden for the blind as well as various sports facilities.
The entrance to Hartswood Golf Course is also to be found in this park as is that to Hartswood itself, a wood of 73 acres where an access trail makes it easy for people to use, including those with disabilities. There is a footpath which runs through Hartswood and links up with Thorndon Country Park and Little Warley and Childerditch Common.
Transformation of King George's Playing Fields
King George's Playing Fields is undergoing a transformation as part of Brentwood Borough Council's Leisure Strategy
King George's Playing Fields transformation includes a new pavilion, splash pad, adventure play, cafe, changing facilities and sensory room.
Parking is limited during the construction period. You should walk, cycle or use public transport to access the park where possible.
New Pavilion
Reception with cafe
Soft play
TAGactive, a non-linear assault course for young adults/adults
Sensory room
Changing Places
New golf club house with changing facilities
Jubilee Suite
Changing rooms
Golf pro shop
Jubilee Suite
Hours: 7am to 8pm weekdays, weekends available various times, can open until late
Room: Meetings, seminars, Buffets, Wakes, Small Celebrations, bar available
Capacity: 80 standing, 60 seated
Hourly rate: £50 per hour
For more information or to book, email KingGeorgeEvents@everyoneactive.com.
TAGactive
TAGactive is a game-based indoor obstacle course designed for everyone! Within the arena, there are a number of challenges, such as net climbs, cargo tunnels, and ball pools, all of which have a number of Tags within them which you must tap with a sensor on your wrist. The more difficult the Tag to reach, the more points you get!
Soft Play
There is a large, two-storey soft play area that's suitable for children of all ages. It features separate areas for toddlers and older children, meaning everyone can have fantastic fun in a safe environment. It's the perfect place to bring your children and their friends to enjoy themselves and, most importantly, burn off some of that energy!
Adventure Play Area
Kin George's adventure playground has been designed with the over 8's in mind and makes for a fun day out. This State-of-the-art facility has a huge range of challenging structures, with both high and lower levels areas to be explored. All sessions are 55 minutes long.
Splash Pad
King George's Splash Pad is a fantastic state-of-art facility for younger children to enjoy, including water jets, fountains, sidewinders, directional jets and cylinder spray. All this makes for a perfect day out during the summer months. All sessions are 25 minutes long and all children need to be accompanied by an adult. In line with guidance, the Splash Pad will only be open when the temperature is 15 degrees or higher.
Sensory Room
The sensory room provides a safe therapeutic space which can provide opportunities for people to have their sensory needs met. The room includes stimuli that may help people regulate, develop and engage their senses as their interact with and explore the environment around them.
To book the Soft Play, TAGactive, Adventure Play Area, Splash Pad, Sensory Room or Multi-Purpose Room, visit Everyone Active or call 01277 598886.
Play Area upgrades
The Council is also in the process of upgrading the play area in King George's and this will be carried out over the next three years.
Skate park
The skate park is free to use and open to all riders of varying ability all year round. The use of protective pads and head gear is strongly advised and users of lesser experience or ability are asked to be mindful of other users and spectators around them on site. Please also ensure you are both confident enough to use the equipment and physically able to climb out of the bowl area before entering it.
All users use the facility at their own risk and children should be supervised at all times.
Crazy Golf
Rascal Bay Adventure Golf Course at King George's Playing Fields is run privately. For more information, visit Rascal Bay, email info@rascalbay.co.uk, call 01277 218714 or visit their Facebook page. Payment is to be made in the log cabin next to the crazy golf course and not in the golf shop.
Lost property
If you mislay a personal item in King George's Playing Fields please ask the park warden who will be on site from 7:30am to 4:30pm, Monday to Friday and 7:30am to 5:30pm at weekends. You can also enquire at the Pavilion as your item may have been handed in there.
Parking is currently limited during the new development construction period in the park. You should walk, cycle or use public transport to access the park where possible.
There are 4 car parks within King Georges Playing Fields:
A - Rugby Club
B - Golf Club
C - Overflow
D - Hartswood Road
Charges Monday to Sunday 6am to 7pm:
30 mins: Free
1 hour: £1.00
2 hours: £2.00
2 hours with discount card: £1.40
3 hours: £3.00
4 hours: £4.00
5 hours: £5.00
6 hours: £6.00
6 hours +: £8.00
Car parks A, B & C are accessible from Ingrave Road while car park D is accessible from Hartswood Road.
For coaches that want to park, call 01277 312500 before parking.
Opening times for the Hartswood Road car park
7:45am to 5pm in Winter and 7:45am to 8pm from March to October.
For more information about the park, call 01277 312500 and select option 2.
To find out about holding a fitness class or similar on this site, visit Parks Events and complete the online application.
Hutton Recreation Ground
Hutton recreation play area
As part of our five year Play Area Strategy for play area improvement, we are looking at refurbishing Hutton Recreation Play Area and have consulted with local residents, schools and users of the play area to help inform the design and layout of the play area.
Phase 2 of the Hutton Recreation consultation has now closed and we received over 180 responses. These will be used to inform the final design of the play area.
Play areas
Play areas and play equipment are inspected on a weekly basis. Litter is collected and litter bins emptied at the same time as the inspections.
Some of the larger and more popular play areas such as King George's Playing Fields, Warley Playing Fields and Bishops Hall Park are inspected and cleared of litter more frequently.
Excess litter, broken glass, offensive vandalism etc, reported to the Council will be dealt with immediately.
To report vandalism in a play area, complete our Report Vandalism form. For any other enquiries, you can complete our Parks and Play Area general enquiry form.
Location of play areas in Brentwood:
Play Areas - Parishes