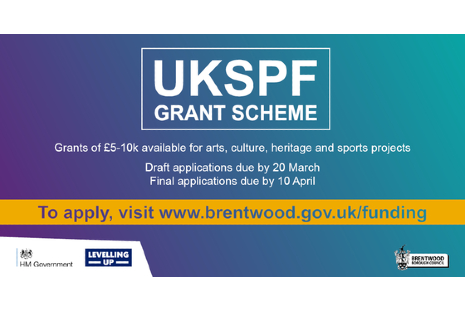 Brentwood Borough Council is inviting applications from not-for-profit organisations, registered charities and businesses for a share of funding available through the UK Shared Prosperity Fund: prospectus - GOV.UK (www.gov.uk)
Applications can be made for between £5,000 and £10,000 to support arts, culture, heritage and sports projects, delivered between June 2023 and March 2024. The grant scheme is being funded by the UK Government through the UK Shared Prosperity Fund (UKSPF).
The council is looking for inspiring applications that support UKSPF outcomes E6 and E10, including increasing volunteering, participation in sports and delivery of creative programmes.
Mandatory draft applications are required by 20 March 2023 to allow for feedback with final applications due by 10 April 2023.
For more information, see our Funding webpage.