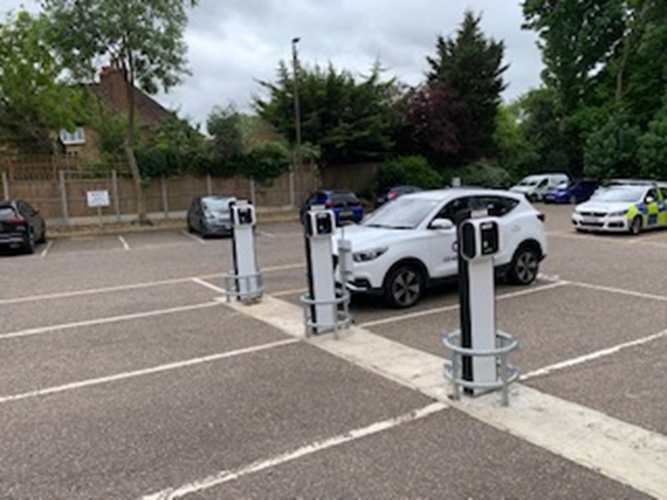 More electric vehicle charging points have been installed in the borough in partnership with Osprey Charging Network as part of the council's plan to increase accessibility. A rapid EV Charger in the North Car Park of the Town Hall the Council has already been installed and a further six electric vehicle charging points have now been fitted for residents to use in the South Car Park. The chargers can be located on all major charging apps and maps.
In addition, the council has been working with Liberty Charge to add another 18 chargers including nine at King Georges Playing Fields close to the Pavillion and a further nine at Chatham Way Car Park. Work to install these chargers will begin next month with the chargers set to be operational by May.
Further chargers are set to be rolled out as part of the ongoing programme in Shenfield and Ingatestone.
Community Service, Environment and Enforcement Committee Chair, Cllr Will Russell said; "We have been steadily progressing with the plan to ensure our residents can access a wide range of sites across Brentwood. With the government's goal of eradicating all purchases of combustion engine vehicles by 2030 and a forecast that by then there will be 3m electric vehicles on the roads, it is vital that this project continues to increase charging points."
Osprey Charging Network CEO Ian Johnston said; "We are delighted to expand our installation with six new 11kW charging points at the Town Hall, in addition to the 50kW unit that was previously installed. These chargers provide an essential service for the residents of Brentwood and surrounding areas who own an EV but do not have access to a charge point where they live. In March we will be opening a new site with six high-powered 150kW charge points in Brentwood, at the Halfway House restaurant on the A127."

Neil Isaacson, Liberty Charge CEO, says they are thrilled to be working with Brentwood Borough Council: "The new installations will cater for the growing demand for EV charging in Brentwood, and support our mission to accelerate the switch to electric vehicles, reduce emissions and improve air quality.The installations include a mixture of fast and rapid chargers. The rapid chargers are perfect for those who want to recharge on the go, while the fast chargers are ideally suited to those spending a few hours in the town centre, or the impressive new Pavilion in King George's Playing Fields, as well as for residents without access to off-street parking."