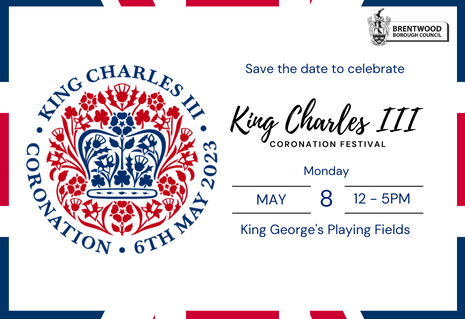 Apply now if you need a temporary road closure for your Coronation celebrations
Residents and local communities planning to hold street parties to mark the Coronation are encouraged to apply now if they need a temporary road closure for their event.
For the Coronation of His Majesty King Charles III and Her Majesty The Queen Consort, residents who would like to celebrate the Coronation can apply to hold a street party over the bank holiday weekend of 6 - 8 May.
The application form and details are now live on the Council's website. To help residents commemorate the Coronation the Council is waiving the usual administration fee for street party road closures, but applications will need to be registered by no later than Friday 17 March 2023.
Brentwood Borough Council's Chair of the Community, Environment and Enforcement Committee, Councillor Will Russell, said: "We hope that people will use the Coronation as an opportunity to come together and enjoy the celebrations, and street parties are a great way to do this. Anyone wanting to organise a street party in their road should follow the guidance we've published on our website.
"I would urge anyone thinking of holding a street party to visit our website now and complete the application form to get the ball rolling if you need a road closure - leaving you plenty of time to plan the fun with your neighbours."
To apply for temporary road closures, visit www.brentwood.gov.uk/road-closures. The deadline to apply for a road closure is Friday 17 March 2023
Coronation Big Lunch starter packs are available at www.edenprojectcommunities.com/the-big-lunch
ENDS