King George's Playing Fields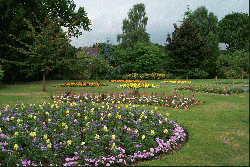 Ingrave Road, Brentwood, Essex CM14 5AE
King George's Playing Fields is a large centrally located park offering several facilities including, formal gardens, children's play area, a unique sensory garden for the blind as well as various sports facilities.
The entrance to Hartswood Golf Course is also to be found in this park as is that to Hartswood itself, a wood of 73 acres where an access trail makes it easy for people to use, including those with disabilities. There is a footpath which runs through Hartswood and links up with Thorndon Country Park and Little Warley and Childerditch Common.
Transformation of King George's Playing Fields
King George's Playing Fields is undergoing a transformation as part of Brentwood Borough Council's Leisure Strategy
Lost property
If you mislay a personal item in King George's Playing Fields please ask the park warden who will be on site from 7:30am to 4:30pm, Monday to Friday and 7:30am to 5:30pm at weekends. You can also enquire at the Cafe in the Park as your item may have been handed in there.
Skate park
The skate park is free to use and open to all riders of varying ability all year round. The use of protective pads and head gear is strongly advised and users of lesser experience or ability are asked to be mindful of other users and spectators around them on site. Please also ensure you are both confident enough to use the equipment and physically able to climb out of the bowl area before entering it.
All users use the facility at their own risk and children should be supervised at all times.
Crazy Golf - Rascal Bay Adventure Golf Course at King George's Playing Fields is run privately. For more information please see the Rascal Bay website, email info@rascalbay.co.uk, phone 01277 218714 or visit their Facebook page. Please note that payment is to be made in the log cabin next to the crazy golf course and not in the golf shop.
Please note that visitors are advised that parking is currently limited during the new development construction period in the park. Please walk, cycle or use public transport to access the park where possible.
There are 4 car parks within King Georges Playing Fields:
A - Rugby Club
B - Golf Club
C - Overflow
D - Hartswood Road
Charges Monday to Friday 9am to 6pm:
Up to 4 hrs in A, B, C and D - Free
Over 4 hrs in A and D - £5.00
Coaches all day - £15.00
Car parks A, B & C are accessible from Ingrave Road while car park D is accessible from Hartswood Road.
Free Parking is available in in all 4 car parks located at King George's Playing Fields for up to 4 hours, with no return for 2 hours.
Should you wish to stay for longer than 4 hours; please park in car park A or car park D where you can purchase an all day ticket for £5.00
For coaches wishing to park, please contact us on 01277 312500 prior to parking.
Opening times for the Hartswood Road car park are as follows:
7.45am to 5pm (Winter) and 7.45am to 8pm (March to October).
For further information about the park, please contact 01277 312500 (select option 2).
Should you wish to enquire about the possibility of holding a fitness class or similar on this site please see our Parks Events page and complete the online application.