About local elections
For electoral purposes the Borough of Brentwood is divided into 15 wards, which are further sub-divided into 41 polling districts.
Electors who are eligible to vote at a particular election or referendum will receive a polling card shortly before polling day, telling them where to vote. There are special arrangements for people who cannot get to a polling station to apply for a proxy or postal vote. Further details can be found in the section on postal and proxy voting.
Elections take place each year for local councillors, either at Borough Council or County Council level. Elections were held in May 2022 in 13 of the Council's 15 wards. There were no Borough Council elections in Hutton North and Tipps Cross wards in 2022.
Electors may also live in an area that has a Parish Council for which elections take place every four years. Find out more on the parish elections page.
Wards
Brentwood Borough comprises 15 local wards. Eight of the wards have three elected councillors, whilst the six less populated wards are represented by two councillors, and the least populated ward is represented by just one councillor. Councillors are usually elected for a four year term of office.
To find your polling station and ward with interactive maps of their location, view our Polling Station and Ward Lookup and Polling Station and Ward Lookup Help.
Find my Councillor by ward.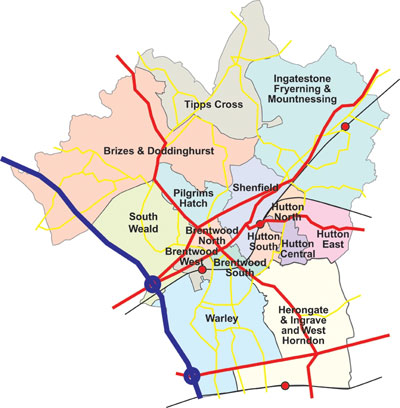 2021 borough council elections and results
Elections were held in the following wards on 6 May 2021:
Brentwood North
Brentwood South
Brentwood West
Brizes & Doddinghurst
Hutton Central
Hutton North
Hutton South
Ingatestone, Fryerning & Mountnessing
Pilgrims Hatch
Shenfield
Tipps Cross
Warley
View the 2021 Borough Council Election Results (PDF)
2022 borough council elections
Elections were held in the following wards on 5 May 2022:
Select each ward name to view the published results.
View the election documents:
The deadline for registering to vote in this election was 14 April 2022.
2022 Ingatestone and Fryerning Neighbourhood Planning Referendum
A Referendum will be held on 4 August 2022.
View the referendum documents: